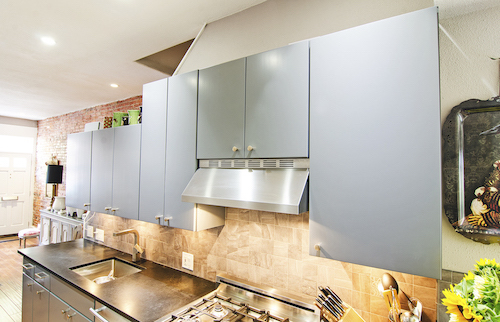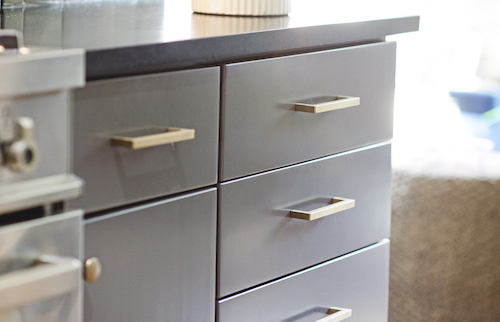 Services
Preparation is our key to success.
Removal of Kitchen Cabinet Doors & Drawer Fronts:
■ Remove all doors, drawers and hardware using a low impact screwdriver
■ Place cabinet parts on a sound smooth soft surface
■ Remove all hinges
■ Label hinges & cabinet parts (for reinstallation purpose)
■ Carefully wrap cabinet parts
■ Safely transport to spray facility
Kitchen Cabinet Preparation
■ All cabinet surfaces are cleaned using a mild detergent/de-greaser cutting detergent with scrub pads and wash cloths.
■ Remove all grease, dirt and scaling by lifting and wiping items to clear and clean dry surfaces.
(80% of all paint failure is in improper preparation)
Cabinet Sanding Preparation Process
■ Prepare orbital pneumatic high speed sanders, down draft table, air pistol and hand sanding.
■ In most cases we start off with a 180-220 grit sanded paper.
■ Remove the old cabinet sealer, clear coatings and finishes.
■ Blow surface perfectly clean
■ Finish sanding with 320 grit sand paper leaving a smooth surface to adhere a primer/ filler coating.
Cabinet Repairs:
■ Hardware Drilled Holes: holes are filled with wood dowels compressed into cabinet with glue
■ Finished with patching and sanding until smooth.
Repairing Crack & Splits
■ Filled using a paintable flexible caulking sealant material.
■ Deeper Cracks and Defects are filled with a flexible spackling vinyl compound
■ When repairs are cured areas are sanded smooth and blended in with cabinet surface profile.
Cabinet Wood Separating: in most cases we are able to re-glue using wood glue / fixative with cabinet clamps which compresses wood back together.
Cabinet Priming:
■ Apply Primer with a HVLP Spray System (high-volume-low pressure)
■ Achieve an even sprayed surface.
■ We use a two coat primer system.
■ First coat is applied which penetrates into the wood surface and lifts up all fine wood grains, sealing the cabinet wood achieving hard dry surface.
■ Sanding detailing surfaces and radius, using a 320-400 grit finishing sand paper
■ Leaves a high level pre-finish profile to adhere finish paints top coats.
Cabinet Finish Lacquer Paint: Coating
■ We use DeVilbiss Kremlin / Finish Line HVLP (high volume low pressure) spray system.
■ We use a two to three coat finish spray system and preparation in between coats
■ Leaves the final coat with a superior finish.
Finished Cabinet Installation
■ We transport and install finished kitchen cabinet doors and drawer fronts
■ Parts are wrapped which prevents scratching kitchen cabinet doors
■ Drawer fronts are installed using the original hardware hinges
■ Replace any mounting screws that were stripped or defective
■ Each part is installed, leveled, squared, straightened and secured
■ New Rubber or Felt Bumpers are placed on all doors and drawer fronts
Installing Hardware Handels, Pulls & Knobs
■ After cabinets are painted and installation is complete, we use a calibrated cabinet hardware jig (true position tool) to position for new handles & knobs
■ Safely drilling/machining accurately with consistency
Color Matching
We can match any color even off of a pillow or small swatch.
Color Selections
Any color can be selected from Sherman Williams, Benjamin Moore, Home Depot, Lowe's or anywhere else where paint colors are sold. We can match it.